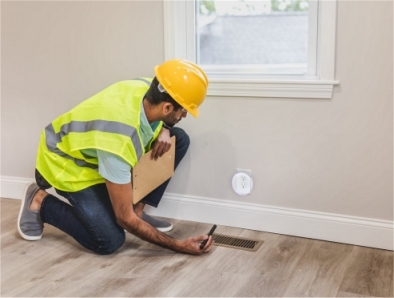 Detecting radon gas in your home as part of a home inspection - Why is this important?
What is Radon?
You may have heard about "radon" in a real estate disclosure or natural hazard report. Radon is a radioactive gas that originates from the natural decay of radioactive elements in soil. It is colorless, tasteless, and odorless and it can seep through the soil into a house through cracks or gaps in the foundation. Once inside a home, it can be absorbed into the lungs through breathing the air. This can cause many health issues like persistent coughing, shortness of breath, and chest pain. Radon is the second most likely cause of lung cancer (after smoking), so it is important to know if the property you will be purchasing has high levels of radon gas.
Are there safe levels of Radon?
According to the EPA, there are no safe levels of this gas. However, lower levels can mean less risk. Outdoor levels are typically very low, but indoor levels that reach 2pCi/Lb are cause for concern. Levels exceeding 4pCi/L are considered hazardous and that would mean immediate remediation would be needed.
What are the health risks of radon?
Lung cancer is the biggest risk.. Deaths from lung cancer in the US caused by radon total close to 22,000 per year. Smokers are more at risk. Radon gas in the air breaks down into radioactive elements that can stay in the lung linings, where they can give off radiation. This radiation can damage lung cells and eventually lead to lung cancer.
How do I know if a house has excessive levels of Radon?
Testing is fairly easy and there are several methods. There are inexpensive home test kits that sample the air and are analyzed at a laboratory. You will get the test results back usually in a few weeks. These kits are best for shorter term results, where you're getting a reading over the course of one day. A step up for home use would be a wall mounted test unit that also measures long term results over he course of several months. These are usually available or less than $200. For testing in a property you are buying, I would recommend a professional inspector. These will usually be a EPA certified. A general home inspector may offer radon testing as an option. There are also inspectors that specialize in radon testing and remediation. Testing should ideally be done on the first floor and not in wet areas like the kitchen or bathrooms. In any case, using an EPA certified inspector will give you the most accurate results.
How can I reduce or meditate Radon in my home?
Reducing radon can be done in several ways. The easiest and simplest method is ventilation. Leaving several lower level windows open can ventilate a lot of the air that carries radon. Obviously, this cannot always be done for both climate and security reasons.
Another method is to use one or more air filters on the first floor of a house that contain activated carbon as part of the filter media. Radon attaches itself to numerous airborne particles and air purifiers attract and trap the particles on the activated carbon bed.. Be sure to regularly change the filter media, as activated carbon does get saturated at some point, which will render the filter less useful in cleaning the air. Keep in mind that an air purifier will not stop the radon gas from continuously leaking in.
Many newer properties are built on a slab foundations. These homes should have less exposure to Radon gas as there is less chance to build up the gas under the house. The goal here is to seal up any cracks or leaks in the foundation where the gas could leak into the home. This is especially true o=in older slab foundation homes from the 50s and 60s where there may be cracks under carpeting, etc,
Older properties with raised foundations may have a higher chance of Radon gas building up under the home. If the home has a dirt floor under the foundation, a common method of reducing Radon is to cover all the exposed earth with a polyethylene plastic layer. If your home has a basement, you can run special ventilation piping up through the roof to vent the gas outside of your living area.
Avoid using exhaust fans! This will only increase the levels of Radon in your home. The use of exhaust fans lowers the air pressure in the home, which can draw in more Radon from the ground. If you do regularly run exhaust fans in the home, open a few windows at the same time to help vent the gas.
Last, consider hiring a nationally-certified contractor to test for and reduce any excess Radon.. A Radon contractor may make several suggestions and adjustments to your home to minimize Radon exposure..
In Summary...
Excess Radon gas in a home can be a serious health hazard. The second leading cause of lung cancer, outside of smoking, is exposure to excess Radon gas. It's estimated that 15,000 to 22,000 people die each year from Radon-related lung cancer. I would recommend Radon testing as a part of a general home inspection for new home buyers. It's also a good idea to check Radon levels in your existing home if you have a home that has a raised foundation or a slab that is older and could be allowing the gas in your home.
* PCi/L - Pico-Curies per liter. It is a measurement of the quantity of gas to other elements in a given quantity of air.
---
Copyright © 2022 - .CDC Technology, Inc. All rights reserved
| | | | | | | | |
| --- | --- | --- | --- | --- | --- | --- | --- |
| | Terms of use | Privacy policy | | | | Site map | |
While all of the information in this article is believed to be true, I do not warrant the accuracy of the information. I cannot and do not warrant that the information in this article is absolutely current, although every effort is made to ensure that it is kept as current as possible. I always recommend consulting with appropriate professionals, like EPA certified Radon contractors. Article copyrighted by Ron Denhaan, CDC Technology, Inc.