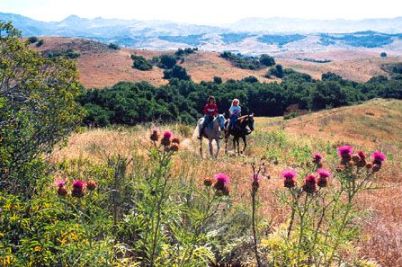 Trabuco Canyon
Ask ten different residents of Orange County, CA to describe "Trabuco Canyon" and you are likely to receive ten different answers. This often misunderstood place-name is located in a valley at the base of the Saddleback mountains and is generally associated with postal zip code 92679. Homes in Trabuco Canyon include everything from rural cabins to opulent estates; town homes and condos, horse properties, family homes, large acreage, lots, land, ranches, second homes, and investment properties. The region contains several residential communities, including Coto de Caza, Dove Canyon, Rancho Cielo, Robinson Ranch, Wagon Wheel and Walden, as well as rural Saddleback/Santiago Canyon real estate in the community of Trabuco Canyon.
Searching for Trabuco Canyon homes and separating the communities in the area is difficult. Real Estate professionals frequently use "Trabuco Canyon" as a catch-all category for homes in Dove Canyon, Rancho Cielo, Walden, Wagon Wheel, Robinson Ranch, etc., and they often miss-classify homes in these areas when entering information into the Multiple Listing Service (MLS). This makes it difficult to isolate a particular community when browsing through internet sites or MLS searches. In short, real estate in Trabuco Canyon CA can be hard to locate through normal home search sites on the internet, such as the Multiple Listing Service for Trabuco Canyon.
With that in mind, this page has been created as a guide to help you discover, explore, and learn about Trabuco Canyon real estate and the wonderful lifestyles that each of these communities have to offer. Please contact me if you wish to view listings of Trabuco Canyon homes, are looking for an equestrian property in Trabuco Canyon California, or want additional information on a particular community. I am a Trabuco Canyon, Rancho Cielo, Walden, Wagon Wheel, and Robinson Ranch realtor who lives and works in the community. Call me for homes for sale in Robinson Ranch, Rancho Cielo, Walden, Wagon Wheel, Trabuco Canyon, Modjeska Canyon, or Silverado Canyon.
---
The Trabuco Canyon Communities

---
One could easily drive by the entrance to the gate-guarded Orange County community of Rancho Cielo and not even know that you passed it. Located just east of the larger Dove Canyon and Coto communities, Rancho Cielo s a quiet, private, and largely undiscovered neighborhood of 245 generous single-family homes built on a hillside. The location rewards many of the homeowners with panoramic views of the Saddleback Valley. If you are unfamiliar with the Rancho Cielo community, it is definitely worth a visit.

Rancho Cielo real estate is sometimes difficult to find on other web sites because homes in this community are not listed under their own MLS category. Instead, Rancho Cielo homes may be listed under Rancho Santa Margarita or Trabuco Canyon. I have included alternate links to help find homes for sale in this community.
| | |
| --- | --- |
| | Rancho Cielo, CA homeowners can take advantage of the many recreational opportunities provided by the community, including a pool and spa, basketball and sand volley ball courts, fenced tennis courts, a tot-lot, and a picnic area. Rancho Cielo homes are conveniently close to the Plano Trabuco shopping center and to local schools. The two tracts are Brighton Summit and Brighton Glen, named after the builder, Brighton Homes. The community is in the Saddleback Valley School District. Homes are available for sale, rent, and lease. There are also short sales and REO/Bank owned homes. Call me if you would like a tour of Rancho Cielo or would like to view homes listings in this community. I can also help you with information about Rancho Cielo HOA dues, property taxes, Mello Roos, and sales comparables. Update: Rancho Cielo has a relatively high Mello Roos assessment, but it is very close to expiring! |
Rancho Cielo links
---
Nestled in the foothills of the Saddleback Mountain, Robinson Ranch, CA homes boast impressive views of City lights to the West, and the mountains to the North East of the community, creating the kind of neighborhood you've always wanted for your family - safe, friendly, attractive, and carefully planned for convenience and enjoyment. Robinson Elementary school is located on the South East side of the neighborhood, affording owners the opportunity to walk to school with their children. Recreational opportunities at Robinson Ranch are abundant and varied and includes tennis, swimming, basketball, playgrounds, and the nearby Cleveland National Forest.

Acquired by Walter K. Robinson in 1883, the Ranch was handed down to his descendants. With the largest portion still preserved, the beauty of this setting is as breathtaking as ever. Robinson Ranch is bordered by the Cleveland National Forest, ensuring continued natural surroundings.
| | |
| --- | --- |
| | For all its country charm and natural setting, Robinson Ranch was planned to provide many conveniences. The homes on generous lots with wide streets and sidewalks, have up to 5 bedrooms. Many were built by William Lyon Homes. Robinson Ranch homes for sale include the home tracts of Trabuco Crossings, Ridge, Springs, Elms, and Homestead, Fieldstone, The Meadows, Lyon Estates & Highlands, and Promontory, If you are interested in Robinson Ranch homes for sale, real estate, bank owned homes, lease options, pet friendly and pets allowed homes for rent, or a home for lease or rent in Robinson Ranch, please give me a call. I can also provide you with information on Robinson Ranch home owner's dues (HOA fees), property taxes, Mello Roos, and recent sales and lease comparables. |
Robinson Ranch links
Robinson Ranch community association
Robinson Ranch Elementary School
---
Wagon Wheel - See my all new web page for homes and real estate in Wagon Wheel, here.
Wagon Wheel Canyon Homes are located in Trabuco Canyon at the end of Oso Parkway just west of Coto de Caza. The Wagon Wheel neighborhoods provide a unique blend of small town family life, coupled with the close proximity to all the creature comforts provided by a bustling metropolis. The beautiful Homes in Wagon Wheel were constructed in the years 1996 through 1998.

Wagon Wheel real estate is affordable, thanks to low tax rates and reasonable association fees. The sales of Wagon Wheel, CA homes are brisk because of the wide variety of appealing homes. There are typically a good selection of homes available for sale and lease. If you are interested in a home for sale or lease in Wagon Wheel Canyon, contact a Wagon Wheel Realtor like myself who is familiar with the area and can provide you with the essentials such tax, Mello Roos, and HOA information.
There are 5 detached home subdivisions, and one condominium subdivision developed in Wagon Wheel as listed below.
Stonecliffe - 145 homes - 2,111 sf to 3,219 sf (gated community)
California Ladero - 100 homes - 1,783 sf to 2,841 sf
California Crosswinds - 125 homes - 1,487sf to 1,986 sf
California Landmark - 191 homes - 1,777 sf to 2,566 sf
California Silverado - 148 homes - 1,356 sf to 1,893 sf
Dakota - 209 Condos - 835 sf to 1,117 sf
The California series of detached Homes were built Kaufman and Broad. The attached Condos and the Stonecliffe subdivision were built by Western Pacific Housing.
Wagon Wheel links
---
A smaller and even more obscure gated community than Rancho Cielo, Walden is located off of Plano Trabuco Drive, between Rancho Cielo and the adjoining shopping center. It is easily accessible from Rancho Santa Margarita, and the 241 Toll Road.

Built by Brock homes in the mid-90s, Walden consists of 113 homes, most of which are on single-loaded streets with view lots. There is a beautiful waterfall that greets you as you enter. Beyond the waterfall is Walden's pond/lake. The inviting pool and spa are built next to the lake, a beautiful and serene setting to be enjoyed by all. There is a grassy area for picnicking, benches, a tot lot, walking trails, and a sense of community pride among the homeowners.
| | | |
| --- | --- | --- |
| | | The Walden community boasts one of the lowest property tax rates in the area, averaging 1.2%, with no Mello Roos (Brock homes, the housing developer, elected to pay off the Mello Roos bond). Walden Homeowners Association dues are currently $235 per month, and the community is in the Saddleback Valley School District. Like Rancho Cielo homes, Walden real estate does not have its own category or sub-category in the MLS, so most Realtors list Walden homes under Trabuco Canyon. I can help you find Walden homes for sale or lease. Call me if you would like listings, information, comps, or if you would like to view homes in Walden. |
Walden links
Note: The OC multiple listing service has made it very difficult to search separately for Walden homes. They do not have standard classification for homes in the Walden development and listing agents usually list homes in Walden simply under Trabuco Canyon. If you are interested in homes for sale or lease in Walden, try the link above for Trabuco Canyon, or just e-mail or call me and I'll provide you with a list.
Walden Homeowners association - Walden is using TSG Independent Property Management as their association manager

---
| | |
| --- | --- |
| | Rounding out Trabuco Canyon is the rustic, woodland Saddleback Canyon community of Trabuco Canyon. Closely related are the canyon communities of Silverado Canyon and Modjeska Canyon, alternatively known as Santiago Canyon CA Real Estate. Dotted with towering live oaks and miles of hiking, biking, and horseback riding trails, homeowners here relish the rural atmosphere and the complete freedom to do as they wish with their "piece of the earth". No manicured lawns, cul-de-sacs, or homeowner's associations here. Instead you will find winding roads, hillside bungalows, and vast expanses of unspoiled nature, reminiscent of the great Irvine and O'Neil ranches of the 1800s. |
A visit to the canyon communities is like a trip back in time. An old fashioned general store greets visitors to Trabuco Canyon. Silverado Canyon derives its name from silver mining operations that took place in the area during the 1800s. Modjeska Canyon was named for the famous Polish actress, Helen Modjeska, who settled here in the early 1900s, and whose former home is now a National HHistoric Landmak
Homes in the Saddleback / Santiago Canyons
Visit the Saddleback Canyons and you will discover homes that are enveloped by ancient live oaks, majestic sycamores, seasonal streams, and picturesque views. Home styles range from decades-old cabins, rustic bungalows, impressive ranches, the Hamilton Oaks gated community, and even opulent custom homes. Smaller canyons dot the area, many with interesting histories or urban legends, like Rose Canyon, Williams Canyon, Holy Jim Canyon, and Black Star Canyon. If you are looking for a serene and unspoiled environment that is only minutes from the surrounding cities, you will definitely find it in the Saddleback Canyon communities.
| | |
| --- | --- |
| | Available homes in the canyons are not always easy to locate through traditional home-finding web sites or MLS searches. If you would like to view some available listings or take a tour of the canyons, please call me. I will be happy to help you with Silverado Canyon real estate, Modjeska Canyon real estate, Trabuco Canyon real estate, or homes in the adjoining canyons like Holy Jim Canyon, Williams Canyon, or Rose Canyon, CA real estate. The canyons include horse properties, lots, land, and acreage, homes for sale, lease, and rent. Call me if you are interested in Trabuco Canyon, CA homes for sale, lease, lease-option, or rent, or lots and land in Santiago Canyon, Silverado Canyon, Modjeska Canyon, or Trabuco Canyon, California. |
Saddleback Canyon Links

O'Neil Regional Park - 3,100 acre County wilderness park in Trabuco Canyon
Tucker Wildlife Sanctuary - A 12 acre non-profit nature preserve managed by California University of Fullerton
Trabuco Oaks Steak House - A fixture in Trabuco Canyon for several decades. (Their official web site is down so I've substituted another)
Rose Canyon Cantina & Grill - Another favorite in Trabuco Canyon - Great Mexican food.
Cook's Corner - The famous (or infamous) weekend biker bar & grill
Modjeska Historic House & Gardens - The former home of opera star Helen Modjeska - Private tours are available
---
Trabuco Canyon History
On July 23, 1769, Gaspar de Portola led an expedition into what is now Orange County and camped a few miles east of the San Juan Capistrano area. On July 24, the expedition headed inland to avoid the many streams and swamps in the area. They found a large plateau area and camped that night on its western edge by a canyon which the Franciscans named San Francisco Solano. This was on the eastern side of Trabuco Creek about three miles downstream from the present Trabuco Oaks. While camped here on July 24-25, one of the soldiers lost his "trabuco" or musket, a most valuable possession to any soldier. To mark this loss, the stream was named Trabuco. The name has been associated with the mesa, the canyon and the entire area ever since.
Today, Trabuco Canyon lies next to subdivision housing of nearby cities such as Irvine, Lake Forest and Rancho Santa Margarita. Within easy reach of Orange County's busy cities, one can go down winding, narrow roads shaded by trees and enter a beautiful wilderness.
---
I hope you enjoyed my Trabuco Canyon, California real estate page. If you are looking for a Trabuco Canyon realty specialist, call me. I will be happy to assist you in finding your dream home, a horse property, or helping you sell your property in Trabuco Canyon!