Rancho Santa Margarita / Las Flores Real Estate
RSM
Homes for sale in Rancho Santa Margarita, CA. The City of Rancho Santa Margarita is nestled in the foothills of the Santa Ana Mountains. RSM has a low crime rate and high school rankings.This is a young community that is very family/kid friendly. As one of the finest master-planned communities in California, Rancho Santa Margarita, California offers something for everyone. Community parks, shopping, and city amenities are all within easy walking distance. Rancho Santa Margarita CA was planned to be an "Urban Village," offering the best of two worlds. This includes all of the elements and advantages of a small city, plus the quality of life of a small village. In 2005, CNN/Money.com named Rancho Santa Margarita as one of the best places to live. More than 50% of Rancho Santa Margarita is planned as open space and recreational facilities. The picturesque lake and beach club with a swim lagoon, miles of pedestrian and bicycle paths and the popular Tijeras Creek Golf Club are all part of it. The city also offers several schools, including Santa Margarita Catholic High School, day care centers, a long list of places of worship and a neighborhood shopping center.
| | |
| --- | --- |
| RSM Lake | Rancho Santa Margarita real estate includes relatively affordable condominiums, numerous town house communities, gated neighborhoods like Lyon Monterey. Also, houses for lease in the 92688 zip code. Single family homes and upscale residences are avalable in many price ranges. The large number and variety of RSM houses means that the community is popular with everyone. This includes first-time buyers, move-up buyers, houses for lease, and people who are relocating from other areas. Whether you are interested buying, leasing, renting, or relocation, RSM real estate is a great way to go. If you are interested in buying, selling, renting or leasing, or if you are considering relocating to the area, please feel free to give me a call. I specialize in Rancho Santa Margarita Real Estate. |
RSM home searches
The sales links below are for properties for sale or lease in Rancho Santa Margarita, CA. Due to the unusually low inventory in the current 2022/2023 market, some of the links below may not have any results available in those categories..
RSM tracts and sub-divisions
| | |
| --- | --- |
| | Rancho Santa Margarita is divided into two sections for real estate (MLS) purposes, RSM Central and RSM North. Each area contains many popular tracts and sub-divisions. |
RSM Central contains: Alicante, Altura, Arroyo Oaks, Arroyo Vista, Barcelona, Belterraza, Bella Ventana, Candelero, Cantamar, Casafina, Castile, California Tesoro, Cabrillo Vista, Cantobrio, Corte Melina, Corazon, Corazon II, Custom Homes, El Caserio, Hidden Trails, La Ventana, Las Flores, Los Abanicos, Las Rosas, Los Portillos, La Tierra, Lyon Monterey, Lyon Promenade, Mission Courts, Mission Greens, Montilla, Paragon, Ranchwood, Sierra Verde, Serabrisa, Tijeras Creek Villas, Terramonte, Tierra Linda, Vista Ladera, and the Villavante tracts. Some homes in these tracts border the Tijeras Creek golf Course.
RSM North contains: Ballantree, Brisa Del Lago, Brisa Ladera, Belflora, Buena Vista, Carino Vista, Cantobrio, Cierra del Lago, California Del Sol, Cresta Vista, Custom Homes, Cabo Vista, El Caserio, Emerald Ridge Freedom, Emerald Ridge Liberty, Estrella Vista, Fiesta, Floramar, Granada, Las Flores, Los Paseos, Mallorca, Marbella, Mission Courts, Montana Del Lago, Mission Greens, Mira Vista, Montecito, Reflections, Rosecrest, Ranchwood, Santa Fe, Sausalito, Sonoma Court, Seranada, Solana Vista, Talavera, Terracina, Tierra Montanosa, Vista del Sol, Vista Ladera, Vista La Cuesta, and Valle Vista. Many of these tracts have lake front or lake view homes. Others are in the popular Melinda Heights area of Rancho Santa Margarita.
Would you like to know the value of your Rancho Santa Margarita or Las Flores home?
In today's real estate market, you may be interested in knowing the market value of your home. Are you thinking of selling you house? You will definitely want to know what your Rancho Santa Margarita or Las Flores property is worth. I will be happy to prepare a CMA (Comparative Market Analysis) for you that will provide you with an estimate of your home's value in today's market.This is done by comparing recent sales and active listings in your area.
If you are considering the sale of your home, you should know that quality inventory is low, and many sellers are receiving multiple offers. This is especially the case in the $700,000 to $1,200,000 price categories. Call me for a free CMA, or to discuss how my team can help you sell your home. My web page on sales explains it well and it's a great place to begin: Sell my home.
Las Flores
| | |
| --- | --- |
| SeaCountry town homes | The Las Flores community of Rancho Santa Margarita is a master-planned development consisting of approximately 6,000 residents, Las Flores is located in the southern-most area of Rancho Santa Margarita. It is very close to Ladera Ranch and Wagon Wheel Canyon. Las Flores real estate consists of a diverse collection of newer homes ranging from condos, town homes, gated communities, a wide range of detached homes, and large, luxury houses priced over 1 million. A great example of Las Flores living is the gated community of SeaCountry. This community features town homes with up to 4 bedrooms and over 1,700 sq ft. Other housing tracts include Avelino, Bel Flora, California Somerset, Greystone Arbor, Magnolia, Springfield, Summit at Las Flores, Sundance, Traditions, Veranda, Vista Pointe Estates, Warmington Oaks, and Wyngate. The community includes a swimming pool, spa, and tot lot. |
| | |
| --- | --- |
| All Las Flores residents enjoy access to community pools and many other recreational amenities. Several schools are also conveniently located in Las Flores, including Las Flores Elementary and Middle schools. In addition to Las Flores, the city of Rancho Santa Margarita includes the communities of Wagon Wheel, Dove Canyon, Rancho Cielo, Walden, and Robinson Ranch, near Trabuco Canyon and Coto de Caza. If you are interested in buying, selling, renting, leasing, or relocating to Las Flores, CA, please feel free to give me a call! I specialize in homes for sale, lease, or rent in Las Flores. The home search links below will help you locate Las Flores, CA homes for sale or lease. | |
Las Flores home searches
Las Flores tracts and sub-divisions
The community of Las Flores contains several housing tracts and sub-divisions. This includes town homes, condos, single-family homes, and luxury homes. These tracts include: Avelino, Bel Flora, California Somerset, Greystone Arbor, Magnolia, Sea Country (gate guarded), Springfield, Summit at Las Flores, Sundance, Traditions, Veranda, Vista Pointe Estates, Warmington Oaks, and Wyngate, as well as some custom houses..
RSM & Las Flores Schools
The communities are served by Saddleback Valley Unified School District and the Capistrano Unified School District. There are three private schools in Rancho Santa Margarita. Schools score in the 80 and 90th percentile, generally the top 15 percent in the state. If you are interested in living in either the Saddleback Valley or Capistrano school district, I will be glad to send you listings of homes in the district of your choice.
Tesoro High School

RSM Intermediate School, one of the most technologically advanced middle schools in the state, serves 7th-8th graders. It is one of the few schools that has a separate theater and school gym.
Public Elementary schools include Cielo Vista, Trabuco Mesa, Robinson, Arroyo Vista, and Melinda Heights.
Private Elementary and Middle Schools include St. John's Episcopal, Serra Catholic, and Mission Hills Christian School.
Santa Margarita Catholic High School is a private Roman Catholic high school.
Tesoro High School is located on Oso parkway, very close to Las Flores.
Tijeras Creek Golf Club in RSM
Nestled in gently rolling terrain surrounded by rugged hillsides, Tijeras Creek Golf Club embraces a natural beauty and intimacy all its own. The course incorporates its scenic beauty with the playability of one of Southern California's finest treasures. The 18 hole championship golf course, designed by Ted Robinson, is playable for all levels, yet challenging enough to interest even the lowest handicaps. Our back nine is legendary, the scenic beauty takes you away as you meander through it's old growth sycamores, oaks, and native chaparral.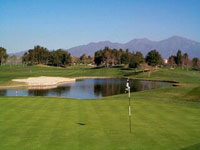 This local favorite is open to the public and provides an enjoyable golf experience for everyone. Scratch players and recreational golfers included. Located in South Orange County, Tijeras Creek is just 25 minutes from John Wayne/ Orange County International Airport. Easily accessible via the Foothill Transportation Corridor or the nearby freeways, Tijeras Creek is just minutes from many locations within Orange County or Los Angeles County. For those wishing a view home in RSM, ask me about Tijeras Creek real estate with great views of this golf course. To Book a Tee Time Call: (949) 589-9793.

Local parks and recreational opportunities in RSM
| | |
| --- | --- |
| | Residents of Rancho Santa Margarita enjoy access to the wonderful Lago Santa Margarita Beach Club. This club features an 11 acre lake, swimming lagoon, picnic areas, and a boardwalk with lakeside shopping and dining. There are many special events which are held at the lake. Most notably, the annual fourth of July fireworks spectacular. RSM also boasts a network of 12 beautiful community parks which include many amenities. These include pools, tennis courts, tot lots, grill & picnic areas. Also, volley ball and basketball courts, and athletic fields. Canada Vista Park includes a skate area and dog park. In addition, there are a number of organized youth sports organizations such as little league baseball, soccer, football, and softball. |
Property taxes and Homeowners Associations in RSM
| | |
| --- | --- |
| Property tax rates and other assessments such as Mello Roos, vary by property and by neighborhood. RSM includes several homeowners associations; the largest being the SAMLARC community association. There are additional HOAs in many of the neighborhoods and developments in RSM and Las Flores to oversee community facilities. These include common area maintenance, insurance, security, or other community interests. Please contact me for specific information on property taxes, assessments, Mello Roos, or homeowners association dues. | |
RSM / Las Flores web links

Let me know if I can help you buy, sell, lease, or relocate to a home in Rancho Santa Margarita or Las Flores! If you are interested in a rental house in Rancho Santa Margarita, CA,, call me.
---
Copyright © 2006. CDC Technology, Inc. All rights reserved

Tijeras Creek Homes, Rent homes in Rancho Santa Margarita, for lease, Lease homes in Rancho Santa Margarita, CA, rent homes in Las Flores, Lease homes in Las Flores, golf course view homes..