Search for Orange County vintage homes by price
Many buyers prefer to search for homes by price range. The following links are arranged by price and include homes built up to 1939. These homes are in all Orange County cities that have large numbers of vintage homes. To find homes built after 1939, use my links by decade here.
| | | |
| --- | --- | --- |
| $300,000 to $399,000 | $600,000 to $699,000 | $900,000 to $999,000 |
| $400,000 to $499,000 | $700,000 to $799,000 | $1M to $1.5M |
| $500,000 to $599,000 | $800,000 to $899,000 | $1.5M and higher |
Search for Orange County vintage homes by City
The following links are arranged by Orange County City. These include homes built up to 1939, with the exception of cities like San Clemente, where vintage style homes were built well into the 1940s. OC's original cities of Anaheim, Santa Ana, Fullerton, and Orange are cities that are rich in history and have large inventories of vintage homes. Prominent neighborhoods include Floral Park and French Park (Santa Ana), Anaheim Colony, the homes around Fullerton's beautiful Brookdale street, Old Town Tustin, and Old Towne Orange, the area around the famous Orange Circle. Old Towne Orange has the largest concentration of 19th-century homes in Orange County. Coastal cities include San Clemente historic homes for sale, especially those built by Ole Hanson. Other beach areas include Laguna Beach and Newport Beach, which also have many wonderful examples of homes and cottages built between the turn of the century and the 1940s.
While some OC cities have chosen the unfortunate path of tear down and redevelopment, other Orange County cities have done remarkable jobs of preserving and restoring their original down towns and neighborhoods The cities of Orange, Fullerton, and Tustin stand out, in that each of these cities have vibrant, beautifully restored down towns and many wonderful, vintage neighborhoods and communities.

Vintage homes in the city of Corona.
| | | |
| --- | --- | --- |
| | Search for Vintage homes by style | |
Many of my vintage homes buyers have requested searches by home style. In addition to Orange County, the search will also include Long Beach, Corona, and Riverside areas. Please remember that the search will only be as accurate as the information entered by each agent, and "style" can be a bit subjective. Looking for a different style? Call me at 949-290-3263.
Vintage homes in Long Beach, CA
The neighboring city of Long Beach, CA is widely recognized for it's historic homes and communities, and the city has received high marks for its preservation efforts. Long Beach has 17 historical neighborhoods, including Belmont Heights, Bluff Heights, Bluff Park, Brenner Place, California Heights, Carroll Park, Craftsman Bungalow Historic Village, Elliot Lane, Linden Ave, Minerva Park Place, Rose Park & Rose Park South, Sunrise Blvd, Willmore City/Drake Park, Wilton Street, and Wrigley. The links below are for Long Beach vintage and historic homes for sale, built 1939 or earlier.
Misc. Vintage Home searches
Here are some additional vintage home searches. These include searches by bank owned homes, short sales, homes with owner financing or assistance, ocean view homes, and homes with large lots. If you are looking for homes with other search criteria, please feel free to contact me. I will be happy to send you a customized list from the Multiple Listing Service (MLS).

Vintage homes for lease
Use the following links to search for a vintage Orange County home for lease or rent. Older houses are primarily located in north OC or along the coast. If you are looking for a historical home for rent or lease, please visit the following links. The left link is for rentals that are for 12 months or longer. The right link includes shorter term, month-to-month, or vacation rentals. For this link, the rent may be a weekly rate rather than monthly, so call me on any of these to find out the actual terms.
Which Orange County cities have the highest number of vintage homes?
For this analysis, I looked at recent MLS combined activity* for 19 major Orange County, California cities. These cities all have significant numbers of vintage homes (homes constructed up to 1949). Santa Ana leads all OC cities by a wide margin, followed by Anaheim. Coastal community Laguna Beach was next. Predictably, Fullerton, Orange, Buena Park, and Garden Grove follow, as these are all original Orange County settlements. After that, the beach communities rise again with Newport Beach, Huntington Beach, Costa Mesa, and San Clemente.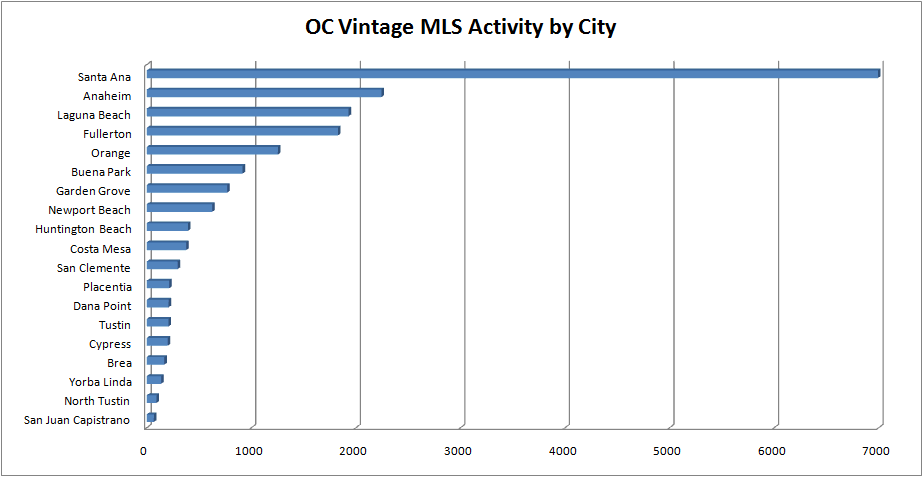 Orange County vintage homes distributed by decade
For the following chart I analyzed recent MLS combined activity* for homes in 19 major Orange County cities by decade. This includes the cities with significant numbers of vintage homes (homes constructed up to 1949). Although generally the activity increases by each subsequent decade, MLS activity is noticeably higher for homes from the 1920s than for homes from the 1930s.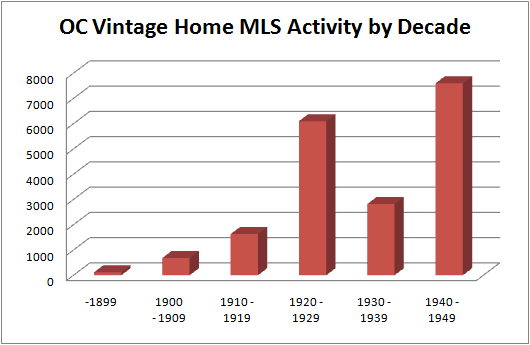 * Recent MLS combined activity - This is strictly a measurement of total activity for the Orange County MLS within a particular sort and within the current timeframe of the MLS database. It is not a measurement of total homes sold, as it includes many homes that have been listed, sold, or cancelled on multiple occasions.
---
| | | |
| --- | --- | --- |
| | Restore or Remodel? | |
One of the first things I always notice when I check vintage homes in the MLS is whether the home been restored (returned to period decor and finish) or remodeled (renovated or updated with modern decor, fixtures, etc). To me there is nothing less appealing than a period home that has been updated with granite counters, vinyl windows, modern fixtures, etc. I don't believe that there is any point to buying a vintage home if you are really looking for one with contemporary updates and features. Over the years, some of OC's vintage homes have been remodeled in this way. With all due respect to the current home owners, these homes should be avoided when they do come up for sale, as they do not accurately represent an original home of that period.
On the other hand, there are probably good reasons why past homeowners may have replaced some of the home's systems such as appliances, heating systems, plumbing, or electrical wiring. Modern equivalents for these items are safer and more efficient than their original counterparts. In an ideal vintage home however, much of the home should have been preserved or restored to reflect the period in which the home was built. This includes features like windows, floors, woodwork and trim, lamps, fixtures, tiles, sinks and tubs, paint colors, furnishings, and decor. Here are a few articles that address this point:
Renovate or Restore, which is Right for You?
Fixer upper may be a vintage home if repaired
---
Links
Vintage Home Resources
Here are a few links that offer products or services to owners of vintage and historic homes.
OC Heritage and Historic Area Links
---
| | | |
| --- | --- | --- |
| | Return to the prior page | |

Thank you for visiting my Orange County vintage homes web page! Vintage, turn-of-the-century, and historic homes and lots in OC are an endangered species due to the County's re-development efforts. I hope that you will treasure these homes as much as I do and that as a homeowner, you will endeavor to preserve, protect, and restore your unique property. Each one of these homes is a small piece of Orange County history!
---
Copyright CDC Technology, Inc. All rights reserved